Brochures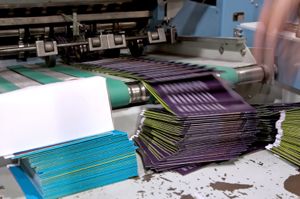 Our design staff can take your ideas, words, or images and produce eye-catching promotional pieces. Or, if you already have camera-ready art, we can print or copy your document on a variety of stocks.
Business Cards can be ordered from Adam Printing 24 hours a day. Call us at 513-871-4546 for a free quote. You can even place an order on your own secure online ordering page.
---
A Helpful Article about Brochures...
To put in the simplest terms, the use of advertising through brochures can save you a lot of money and time, compared to the cost your company or business could incur if a conventional medium was instead used for advertising purposes - television and radio, for example. All businesses need exposure to possible markets, and this is achieved in only one way, through advertising. brochure campaigns enable you to advertise everywhere with minimal costs to the company. They can also be as effective as any other form of advertising aimed at the mass market.
Before you contact any of the many brochure printing services out there, you must first make certain that this is your preferred method of approaching the market - this step is important, the type of product you sell or the kind of service you provide is a deciding factor. Cost is another factor; Brochure campaigns are affordable and cheap. If you have decided that the product your company makes or the service it provides is suited to this form of advertising, or if financial reasons preclude you from choosing other mediums - go for it. There are manybrochure printing services out there, approach one of them.
Great, now that you have decided to go for brochures in your advertising campaign, you will find that the market is saturated with companies and individuals offering brochure printing services. Your goal now is to make sure you snag the best deals that are available. Normally such companies will offer their services cheaply, if you order in bulk. Be prepared to carry out negotiations about the price.
Ideally, the company must have provided their services to other clients who market in an industry similar to yours. Once you have set down the amount you require for the project, ask yourself if the number of brochures you feel will be sufficient to penetrate the market. More is not necessarily better, though bulk orders will generally bring printing charges down.
Save on the cost of printing in any way possible. A lower paper quality may be sufficient for many campaigns. This is one place where you can really cut costs. Also, carefully prepare the content. The words and the colors used must convey the image of your company. The brochure is a reflection of your company. Remember this factor; a person looking at the brochure is looking at your company! The design and feel should make a good first impression on him. Do not neglect this fact when cutting down costs.
Generating a good first impression from a potential client is the most effective way in which a brochure can work for your company. In life as in business appearances can make or break relationships. The brochure is your calling card and must represent you well.
When you go for custom brochure printing, take advantage of the fact that some of the printing companies may have designers. Ask them to customize your brochures to convey a unique style; your advertisements must be different from what other companies present. Advertising using brochures is both cost effective and if played right can bring you immense exposure to the market.
The brochures are your calling cards. Use them right.
Source: Free Articles